Break Stay and Storage
For the most updated information on staying for the break or storing your items click HERE.
Car Storage
This year we will be issuing a special permit for winter residents leaving their cars over the break. You'll leave the permit on the interior dash of your vehicle and it will direct you where to park next to our visitor parking.  All other cars may be booted or towed as we likely will do a snow removal lot clearing over the break.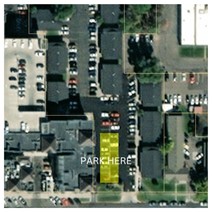 ---
Early Check-in/Break Resident
STORAGE AGREEMENT
We ask that all items in the apartment are found according to this storage agreement prior to the semester start date.  NO EXCEPTIONS. Storage is only offered for students with a continuing contract over the break period not including summer term.  If the student apartment does not follow the storage and cleanliness guidelines, a $45 fee is charged.
Living Room: Please stage your living room by removing all personal items from the living area and storing them in your bedroom area. We want each new student to feel welcome and participate in the apartment set up.


Kitchen: Kitchen items cannot be stored on the counter tops, tables, islands, or above cabinetry. We should be able to see clear areas for new student arrivals. One shelf per student can be used for food storage.


Fridge/Freezer: Please keep your items in a designated area in grocery bags for easy moving to accommodate other's items. We would like there to be clearly marked areas for the new roommate's food.


Bedroom: All personal items must be neatly organized in half your closet or on half the floor of your closet, on or under your bed, or on the bookshelf. We ask that the desk be free of all personal items. Remember it is a shared space!


Bathroom: All personal items must be removed from the bathroom. Please have all items removed from the top of the vanity. The only exception is your shower curtain. All other items need to be neatly organized in your closet or on the floor of your closet, on or under your bed, or on the bookshelf. By removing all items it will help in the cleaning process.
We will be inspecting your apartment using the last person checkout the day before the first official housing move-in date. Any missed items will be cleaned, and the listed fees will be assessed. We expect the apartment to be maintained in that condition until the official check-in time the following day.
---
CLEANLINESS STANDARDS
We ask that students checking in early keep their apartment clean in preparation for new roommates.  Here is a list of items that will need to be completed, and paper copies are available in the office.  We will check on your efforts the day before the semester begins starting at 10am.